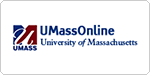 Selected School: UMassOnline
Description: 

School Description

UMassOnline is proud to be helping busy professionals, lifelong learners, and students worldwide continue their education, enhance their careers, and enrich their lives no matter where they're located. UMassOnline offers over 150 online degrees, certificates, corporate/professional education opportunities and 1500+ online courses. The University of Massachusetts President and Board of Trustees created UMassOnline in 2001 to meet the online education needs of people locally, nationally, and internationally by offering accredited educational programs via interactive, Internet-based learning systems. UMassOnline is your entry into the University of Massachusetts.




UMassOnline IS UMASS




UMassOnline students receive the same benefits as their on-campus peers:



An internationally recognized faculty, including winners of the world's most prestigious awards, including the Pulitzer Prize, Nobel Prize, National Book Award for Poetry, and the Draper Award in Engineering.
A fully accredited university with highly ranked schools and colleges.
The same high-quality programs and learn from the same world-class faculty as students at the University of Massachusetts' Amherst, Boston, Dartmouth, Lowell or Worcester campuses.
A 320,000 alumni network, including successful, highly respected industry leaders, scientists, authors, astronauts, hi-tech entrepreneurs and entertainers.
A staff and faculty committed to meeting the needs of students, whether on campus or off.
Rigorous academic requirements that guarantee a degree or certificate of great value.
Technical support available 24 hours a day, 7 days a week via phone, email or live chat
Online, offline or blend, the choice is yours…
Recognized as one of the top university systems in the United States, the University of Massachusetts 5-campus system has been a leader in distance education for over 25 years. Now you can get the best that UMass has to offer by getting your university degree online, offline or blended.
Recently, UMassOnline added another way to learn that allows local students to get the best of both worlds. You can choose to get your degree through a campus nearby and learn in a traditional classroom setting, choose to access fully online anytime or anywhere, or blend the flexibility and convenience of online with the experience of the face to face classroom.
The University of Massachusetts campuses at Amherst, Boston, Dartmouth, Lowell and the Medical School are accredited by the New England Association of Schools and Colleges. In addition, many of each campus' schools and colleges are also accredited by discipline-specific agencies such as the Association to Advance Collegiate Schools of Business (AACSB), National Council for the Accreditation of Teacher Education, and National League for Nursing.
Show more
Tell us about yourself so we can provide helpful info about this school